Byers Airport Subaru is here to support you. When it comes to maintenance, let our certified technicians take the stress off your shoulders. From routine maintenance such as an oil change or air filter replacement, to more complicated matters, our service team has you covered. Our experts are factory-trained in all things Subaru, so you can rest assured they understand the unique ins and outs of Subaru engineering. Unlike independent or chain auto service centers, our technicians are trained beyond standard ASE certification. Our service center only uses Genuine Subaru parts and accessories, so you can get the most out of what you're paying for. When it's time for your next maintenance appointment, trust Byers Airport Subaru to take care of you.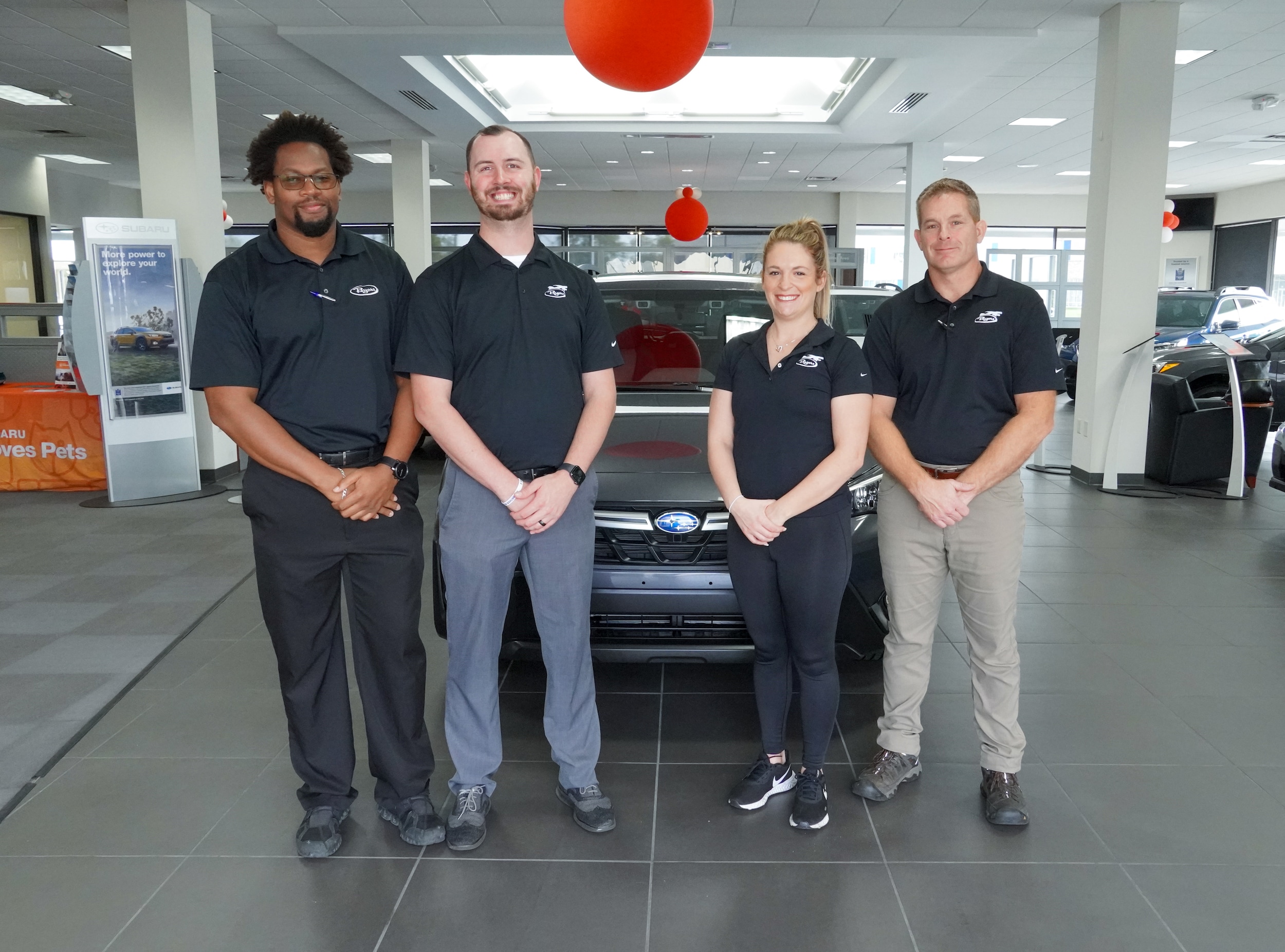 Certified Subaru Service and Maintenance
Having maintenance done on your vehicle can be stressful. You may not know exactly what to ask for or understand what needs to be done. Our skilled technicians at the Byers Airport Subaru Service Center are ready to help educate you. Understanding what maintenance needs to go into your vehicle and why is just as important as having it done. Make sure your Subaru stays at top-notch performance level and gets the services it routinely needs. Worried something might be wrong that would make repairs more complicated? Let our technicians take a look at your Subaru and we'll explain what needs to be done. We use only genuine OEM parts and accessories, so you know your Subaru gets the attention and care it deserves. At Byers Airport Subaru, you and the care of your Subaru are our priority.
Hours
Monday

7:00AM-6:00PM

Tuesday

7:00AM-6:00PM

Wednesday

7:00AM-6:00PM

Thursday

7:00AM-6:00PM

Friday

7:00AM-6:00PM

Saturday

8:00AM-12:00PM

Sunday

Closed
What Services Do We Offer?
Oil Changes:Keeping up with your oil change helps with the longevity of your vehicle's life. This standard maintenance procedure replaces the worn-out oil with brand new oil, helping to keep your car, truck, or SUV running smoothly down the road.
Tire Changeover, Rotations, and Wheel Alignments: Next to an oil change, tire changeover and rotation is an important maintenance key for the upkeep of your vehicle. Rotating those wheels helps distribute the wear more evenly overall, and getting a wheel alignment each time is important to keep your ride balanced. Our technicians can rotate your current tires or replace them with new ones when the time comes.
Brake Service and Maintenance:Upkeep of your brakes and brake pads is not only an important maintenance step, it's also a safety issue. Byers Airport Subaru takes your brake maintenance very seriously to protect you while you're driving. We handle everything from replacement brake pads, flushing the brake lines and even new calipers and rotors. Put your trust in Byers Airport Subaru.
Engine Repair: Let our service team take care of all your engine needs. As the heart of your vehicle, your engine deserves the best care possible. Our excited technicians can diagnose any problem your car, truck, or SUV might have. From installing a new head gasket to replacing the bottom end, we've got you covered.
Transmission Service:Issues with a transmission can be scary. Don't let them sneak up on you. Our factory-trained service technicians know what to check with your transmission to keep small problems from escalating. If you're having issues shifting gears, or you notice your Subaru isn't shifting smoothly, stop by our service center and have a technician check it out.
Service Specials and Coupons Help You Save Big
Don't let a potential price tag keep you from servicing your vehicle. Low cost routine maintenance services can help keep high dollar complications at bay. At Byers Airport Subaru we offer ever-changing coupons and service specials to fit your needs. If you need a service done but don't see a coupon, check back again soon and see if our newly updated deals fit your needs. Schedule your next service appointment today.
Let Us Help at Byers Airport Subaru
Don't let a surprise light on your dashboard interfere with your plans. Keep your Subaru ready for whatever plans you have, from weekend activities to your daily commute. Our service team at the Byers Airport Subaru are excited to work on your Subaru car, crossover    2w, or SUV and keep it running in tip-top shape so you're ready for anything.