Our Lineup
The road ahead is full of adventure.
Welcome to Byers Airport Subaru
Our Reviews
Called because my tire pressure light came on was able to make an appointment for the following day. Everything was done, including my multipoint inspection. Everything took approximately one hour. Thank you Byers Import/Subaru!
The routine car service was completed quickly and with no issues.
Great service and communication!
Great service and great pricing! Make sure to check their service website for coupons.
I am in my 70s and have taken my vehicles in for service MANY times over the years. However I have never been inclined to write to share my thoughts about my experience until now. I'd like to commend Thomas McLymont for his service - he was extremely professional and extremely kind. I hope that he'll know how much I appreciated this. I think that Byers Subaru is VERY lucky to have him as an employee.
Thank you for being expedient in getting service completed, the vehicle inspections, and the free car wash. All perfect.
Yasser and his teammates were great to work with. He made the whole process of buying our new Subaru fun and easy. He knows his product and we love our new car. Thanks Yasser and Byers Subaru. We will definitely recommend you all.
It was great to come to Byers Airport Subaru at the Airport for my Oil change & other stuff needed. I don't drive 12,000 miles every year, I gave up alot of driving miles when I stopped doing child visitation from Columbus, Ohio to Hamilton, Ohio every other weekend, I was doing all the driving on Fridays to get my daughter in Hamilton, Ohio, then on Sundays take her all the way back to Hamilton, Ohio. That was 120 miles each way, 4 times (480 miles) every other weekend. That stopped when my daughter disowned my family, cause of her family down in Hamilton, Ohio. Seems I was taking my daughter away from her school friends every other weekend.
Took my Outback in for the 1 year service. They were efficient and addressed maintenance concerns and my questions. Ashley was professional and friendly. I will definitely be back to take care of all maintenance needs
Thomas and Kyle were TOP NOTCH to work with. They know their stuff and know how to take care of their customers. I feel they earned a free lunch from Byers. Well done gents!!
Fast, efficient, professional.
Took me without reservation and had the problem diagnosed and fix within an hour. Thanks.
Great service! Great experience!
Great service from start to finish!
Amazing people and place. Greg helped me out and was super personable and communicative every step of the way. Again just great people
Professional and thorough.
David was great! Took the time to go over stuff with us. We love Subarus and this just solidified the feeling.
Honestly, this was the best experience I've ever had with my car's maintenance. The team was great, and I appreciate the fast turn around and great lobby wifi!
They were very friendly and got me checked in to start maintenance in a timely manner. Took about 50 minutes and things were explained about the maintenance performed.
Love the Express Service for my oil change and tire rotation. Comfortable waiting area. Estimates for future maintenance needs helps in planning the next visit.
I just bought a Subaru Forrester and love it! I had the best ever sales dealer, Eva, she took so much time with me explaining all the special features. I would highly recommend them.
We just purchased our second car from this dealership- excellent service, no hassle process. Highly recommended.
Eva was very easy & pleasant to work with! Explained everything concisely
Best service experienc ever on my Subaru Outback at Byers thanks to Service Consultant "Jeremy Bowman "
More than a car company.®
The Subaru Love Promise is our vision to show love and respect to all people at every interaction with Subaru. Together with our retailers, we are dedicated to making the world a better place.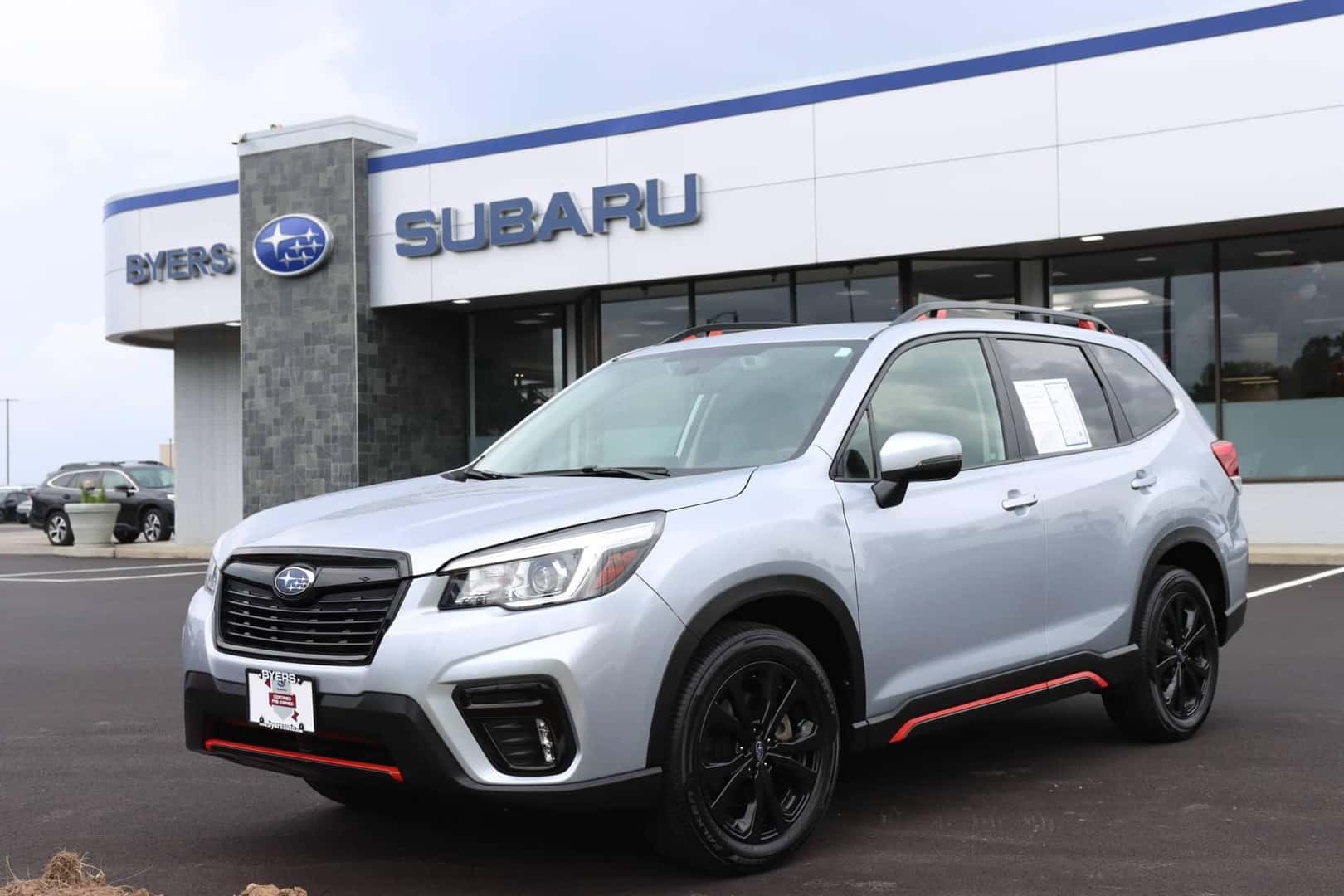 Welcome to Byers Airport Subaru
Deciding it's time to upgrade to a new vehicle can be exciting but determining which one can be a challenge. Even if you decide your best bet is to go with the reliability and durability that Subaru has become renowned for, finding the right dealership to help you through your journey is daunting. If you live in the Columbus area, you know there are a multitude of dealers just inside our fair city. Located just minutes away from John Glenn Columbus International Airport is your ideal choice to find a new or used Subaru. For over a century, Byers Airport Subaru has established a reputable standing as a dependable, community-rooted dealership in Columbus, offering a tailor-made encounter for each new Subaru owner. Beyond presenting budget-friendly vehicle choices, our dedication extends to furnishing patrons with top-tier new Subaru models. With our astute sales professionals and unwavering support team, we stand ever-prepared to guide you towards the optimal automobile, seamlessly aligning your preferences with an ideal price point.
Discover New Models For Sale in Columbus
Discovering the ideal Subaru dealership demands time, just as finding the perfect new Subaru requires a step-by-step process. From selecting the right aesthetic to identifying the optimal features and powertrains, the landscape is rich with choices when it comes to securing a new Subaru that seamlessly caters to your every requirement. The good news is that our line of Subaru models arrives brimming with a host of cutting-edge features designed to infuse tranquility into your driving escapades. Within the realm of our collection, the new Subaru Crosstrek, Subaru Outback, Subaru Ascent, Subaru Impreza, Subaru Legacy, and Subaru Forester shine as outstanding examples of innovative Subaru vehicles, each boasting remarkable attributes from every perspective. We take pride in extolling the virtues of these automobiles to our esteemed customers, emphasizing their reliability and dependability. Notably, these vehicles come fortified with the EyeSight® Safety system, a technological marvel that monitors the ebb and flow of traffic, optimizes cruise control for your convenience, and provides alerts in the event of lane departure. Our selection of new Subaru cars, hatchbacks, and SUVs come equipped with advanced capability systems like the Symmetrical All-Wheel Drive, a dynamic feature that enhances traction and empowers you with the assurance needed to conquer any terrain. Your quest for the perfect new Subaru finds its answer at our Columbus, Ohio location.
Quality Pre-owned Vehicles Available
If you're in search of a vehicle that offers affordability without compromising on value, our used inventory holds a treasure trove of options that you're bound to adore. Drawing from our extensive experience as a dedicated Subaru dealership, we've observed that even older models have a wealth of merits to offer. Within our selection, you'll encounter irresistible prices paired with models that exude the aura of being brand-new. Each of our used cars is meticulously cared for to ensure your driving experience surpasses all expectations. Opting for a used car translates to lower upfront costs and a slower rate of depreciation compared to their brand-new counterparts. This means not only initial savings but also the potential to recoup more of your investment should you decide to sell within the next few years.
The realm of used cars presents a multitude of possibilities, encompassing a variety of used Subaru models and offerings from other renowned brands. For those seeking a nearly-new sensation, our certified pre-owned vehicles step into the spotlight. These models boast odometer readings of under 80,000 miles and are no older than 5 years, closely resembling the experience of driving a fresh-off-the-lot vehicle. With top-notch safety features and ratings, our certified pre-owned vehicles assure a journey that will endure the test of time, serving you dutifully throughout your ventures.
Financing & Leasing
After you've discovered the vehicle that aligns with your aspirations, our finance center stands ready to lend a hand. Our adept team of financial experts presents an array of leasing and loan options tailored to your preferences. Through partnerships with national lenders, we're dedicated to securing the ideal financial arrangement for your needs. Regardless of your budget, we're committed to collaborating with you to ensure you obtain the keys to your cherished new Subaru. As you zero in on the new or used car you've long desired in Columbus, remember that Byers Airport Subaru is devoted to extending your automotive journey far into the future.
Trust Our Expert Service Technicians for Parts & Repairs
Navigating the process of maintaining your Subaru vehicle can indeed be exasperating, and we're here to alleviate that frustration. Our dealership in Columbus, Ohio, offers a comprehensive spectrum of services, encompassing vehicle inspections, oil changes, and more. Rest assured, our Subaru repair and service center stands as a beacon of reliability, committed to delivering superlative service. Your new Subaru vehicle warrants nothing short of exceptional, adept, and thorough care. Moreover, avail yourself of the opportunity to access cost-effective service coupons and remarkable parts offers that keep your Subaru in seamless motion. At Byers Airport Subaru, we proudly bear the mantle of being your foremost destination among new Subaru dealers, driven by our unwavering dedication to unparalleled customer service that consistently transcends expectations.
Additionally, our Express Service alternatives eliminate the need for appointments when it comes to tasks like oil changes, tire rotations, and inspections. You can count on us to provide swift and comprehensive explanations for any service or parts requirements you might have. Our location is conveniently situated a brief drive away from anywhere in the Columbus area. Functioning as your premier Subaru dealer, we are steadfastly devoted to facilitating your acquisition of a new Subaru without hassle. We look forward to the chance to work with you and finding you the Subaru model that checks all your boxes!